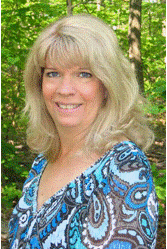 Congratulations and many blessings on your upcoming wedding!
This is a day that will be cherished for all eternity.
Whether you choose a small and intimate wedding or a gala affair, it will be an honor and privilege for me to be your wedding officiant at such a joyous time in your lives.
I am Reverend Suzanne Crouch, and I am a Ordained Interfaith Minister and Wedding Officiant. I serve the Tri-state area and am available for destination weddings. Let's talk about how we can create the ceremony you have always wanted.
There are many ways you and I can create a ceremony together. As a couple, first decide whether you want something customized or standard. Do you want something spiritual or civil? Whatever you want, I can create exactly that.
I will be honored to be a part of this joy filled day with you, your family and friends. If you are ready to begin the process of creating your wedding ceremony, please, contact me.
Congratulations on your upcoming wedding!! This day will reflect your and your beloved's personal style and traditions. While choosing a wedding officiant, remember that this needs to be someone who you feel comfortable with and you can connect with on a personal level. When you're ready, I would love to meet both of you either in person, via Skype, or with a phone call. Whichever means of communication works best for you. It is an opportunity for us to get acquainted and learn a bit more about your desires for your wedding ceremony.
Custom Ceremony Ahh~ This is the most chosen package. It contains the works! I will send you a questionnaire to be filled out by you and your partner. The answers will give me the blueprint to crafting your wedding ceremony. It will be filled with golden nuggets of love and wisdom, and contain the groundwork to begin your life together. Working together, we will create a personalized ceremony that reflects your beliefs and traditions as individuals and as a couple. You may write your own vows and choose a custom ritual (such as wine ceremony, breaking of glass, warming of the rings, sand ceremony, unity candle, hand-fasting, etc.) You can also talk with me about creating something unique to the two of you. Children's participation in the ceremony is always welcome. The ideas are endless! I will send you the first draft of the ceremony, and you will have ample time to make whatever changes you want before the wedding day. You can write your own vows, or I can help you write them, or write them for you.
Standard Ceremony Simplicity at its finest! This is a sweet, heart opening ceremony. I offer it in a civil and spiritual context. You may write your own vows if you would like to.
Interfaith Wedding As a non-denominational Interfaith Minister, I can, and I will incorporate elements from both of your traditions into one spectacular ceremony that honors both of you.
Same Sex Wedding Ceremony I have been honored to perform many civil unions and now, happily perform marriages for couples of the same gender.
Elopement Ceremony If you are looking for a private intimate ceremony with just yourself, your partner, and two witnesses, then an elopement is for you. I can also provide the witnesses.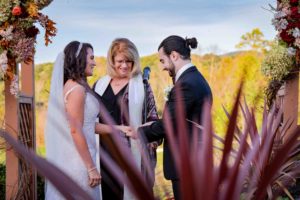 About Rev. Suzanne Crouch
I am a wedding officiant as well as an Interfaith Minister. I was ordained and graduated from One Spirit Interfaith Seminary. I am passionate about the different sacred traditions and awed by their similarities. We are all one; we just experience our own spiritual journeys uniquely. I enjoy being a minister and serving humanity with love and reverence. Whatever your need may be a ceremony or spiritual guidance, I am the minister to call and set up a meeting.
Suzanne was the perfect officiant!
Suzanne went above and beyond for our wedding! She spent so much time learning about us, and painted a beautiful picture of our love story. She was organized, prepared, and very well spoken. I couldn't have been more happy to have her as our officiant!
Katie R. Married on 10/09/2021, Rating 5.0 ★ ★ ★ ★ ★
Suzanne was great!
Ever since I had my first phone call with her to go over everything she was just so nice and sweet. She responds fast to emails. During rehearsal dinner she was so kind and patient with everyone and so helpful with directing everyone on what to do! She really made my husband and I comfortable, especially on the wedding day. She was so professional and really made the perfect speech. We loved her humor and she was just a great fit for us. I would absolutely recommend her !
Amber Married on 10/02/2021, Rating 5.0 ★ ★ ★ ★ ★
Great experience!
We had a great experience working with Rev Suzanne! She worked with us to create a ceremony that felt authentic to our relationship. She was very quick to answer our questions and help us throughout the marriage certificate process. We would definitely recommend her to anyone looking for an officiant!
Lauren Z. Married on 08/01/2021, Rating 5.0 ★ ★ ★ ★ ★
Best Reverend Ever! Would Recommend to Everyone!
Rev Suzanne Crouch was an astonishing person to work with! My husband and I lost the original person who was supposed to marry us but Rev Suzanne stepped up to the plate and did not disappoint. She is amazing in every way possible and wrote our love story perfectly! We will forever be grateful for her and her work!
Sabrina V. Married on 07/24/2021, Rating 5.0 ★ ★ ★ ★ ★
Personal, caring, professional experience
We were honored to have Suzanne marry us! She took the time to get to know our story and custom tailored our ceremony to our exact needs and wants. It was beautifully written and performed!
Erin Married on 06/03/2021, Rating 5.0 ★ ★ ★ ★ ★
Perfect Ceremony
Rev. Suzanne was so easy to work with and helpful in the planning process. We wanted a ceremony that was short and sweet and that felt like us, and it did. Rev. Suzanne made our ceremony light-hearted and fun, and read a beautiful poem which she suggested that really captured our views on love and marriage. We highly recommend!
Katherine H. Married on 05/22/2021, Rating 5.0 ★ ★ ★ ★ ★
Excellent!
We got married on 8/1/2020. Suzanne was wonderful! She took into consideration everything we wanted and asked for and it turned out terrific. I would highly recommend her.
Lacey Married on 08/01/2020, Rating 5.0 ★ ★ ★ ★ ★
Excellent wedding officiant
Rev. Suzanne was nothing short of perfect. From the first meeting with her, she made us feel comfortable and accommodating. She was always quick to respond to my emails, and helped us in any way she could. Rev. Suzanne was very professional and our wedding ceremony couldn't of went any better!
Krista, married on 09/22/2019, Rating 5.0 ★ ★ ★ ★ ★
Rev Suzanne personalized our dream wedding
First let me start by saying how much I love Rev Suzanne. She took out time to get to personally connect with myself and my husband and through telephone, email, text and in person. This is how she learns about the couple and can write your love story through her eyes and share it with your guests. I was married before and being Catholic it was important for me to incorporate my beliefs into the ceremony. Rev Suzanne obliged being an interfaith minister. It wasn't "overkill" for non-Catholics but still satisfied my heart because a divorce would not allow me to marry again inside the church. She made suggestions how to include my two stepchildren in the ceremony and we had children's vows at end to make them feel important and part of our commitment as a family, not just as a couple. Suzanne is so dependable, committed and believes in what she does. We clicked over the phone but when we met in person it felt like I have known her my whole life. I give my highest recommendation for her to marry any couple considering her. You will be blessed by her being your minister.
Jodi Zimmerman, married on 08/04/2019, Rating 5.0 ★ ★ ★ ★ ★
Our Wedding Rev. Suzanne Crouch was warm and friendly from the very 1st conversation.
She kept in touch with us throughout the whole journey, and guided us in choosing the right words for our wedding celebration. We felt so comfortable with her at our ceremony and our friends and family said how wonderful she was. We are so grateful for finding her, and we would highly recommend her without any hesitations!
Marina Dijkstra, married on 06/30/2019, Rating 5.0 ★ ★ ★ ★ ★
My perfect wedding
Rev. Suzanne officiating my wedding this past May, was one of the BEST wedding decisions I had the pleasure of making. She ensures that the ceremony is exactly what the couple wants, and listens intently to her clients wants and needs. The couple is her top priority, and she makes that inherently known. Rev Suzanne is NOT someone who will get up there and forget the names of the bride and/or groom. Her attention to detail is meticulous and properly telling the couples story of their love and journey is of the utmost importance to her. She is extremely personable, flexible, and client centered/focused. She tailors each ceremony to the couple she's marrying, and effortlessly incorporates special moments, acquired through simply talking with her or through or carefully thought out questionnaire, into the ceremony. From the moment we booked her as our officiant, she consistently communicated with myself and my (now) husband. And every draft she creates, she sends it to the couple for review and to address anything in it that needs to be altered so that it is PERFECT come wedding day. Suzanne has an uncanny ability to make you feel like family; her calm and warm demeanor will immediately put you at ease, and her wonderfully amazing sense of humor contributes in creating a beautiful balance of sentiment, laughs, love, and tears. Suzanne, Kyle and I can't thank you enough for playing such an important role in our very special day. I feel truly blessed to have had you stand up there with us and to be the person who retold our love story to our families and friends. It will forever be one of my fondest and most cherished memories.
Jennifer Volz, married on 05/17/2019, Rating 5.0 ★ ★ ★ ★ ★
Incredible Wedding Officiant Reverend Suzanne Crouch was AMAZING.
My new husband Vinny and I were married at Grand Cascades at Crystal Springs Resort on April 20th, 2019. Throughout the planning process she was responsive, caring and even wiling to perform our wedding ceremony the day before Easter!!! She took care of all of the filing and even kept a copy of our wedding vows, just in case we forgot them.The moment she sent over our ceremony outline, I knew the crowd would be filled with tears. She made sure to mix religion, our love story, some jokes and even in the moment humor from the crazy wind we had during our ceremony. I would hire her over and over again if I could. Thank you Rev. Crouch for making our wedding ceremony so special and truly one of a kind. We were honored to have you officiate our ceremony and thank you for answering ALL of my crazy bride questions 🙂
Jaclyn, married on 04/20/2019, Rating 5.0 ★ ★ ★ ★ ★
Beautiful Wedding Ceremony Reverend Crouch created the perfect wedding ceremony for us.
We received wonderful comments from our guests on how beautiful the ceremony was. Suzanne was a pleasure to work with and was a big part in making our wedding day perfect!
Maureen Mahoney, 10/06/2018, Rating 5.0 ★ ★ ★ ★ ★
Excellent!
We got married on 8/1/2020. Suzanne was wonderful! She took into consideration everything we wanted and asked for and it turned out terrific. I would highly recommend her.
Lacey Married on 08/01/2020, Rating 5.0 ★ ★ ★ ★ ★
Beautiful Wedding Ceremony Reverend Crouch created the perfect wedding ceremony for us.
We received wonderful comments from our guests on how beautiful the ceremony was. Suzanne was a pleasure to work with and was a big part in making our wedding day perfect!
Maureen Mahoney, 10/06/2018, Rating 5.0 ★ ★ ★ ★ ★
Suzanne was fantastic
We had quiet the bridal party, a bunch of jokesters and Suzanne was fantastic. She was able to wrangle this rowdy bunch. Not to mention the words she spoke were perfect. We wanted short and sweet and we got exactly what we had hoped for. I cannot begin to thank you enough for making our day so perfect!!!! (also dealing with Matty 🙂 )
Nicole, 08/25/2018, Rating 5.0 ★ ★ ★ ★ ★
Reverend Crouch was wonderful.
She wrote us a beautiful ceremony that was loving, fun and romantic. She had me in happy tears. Loved her.
Julie, 07/26/2018, Rating 5.0 ★ ★ ★ ★ ★
Rev. Crouch was wonderful!!
She did an absolutely fantastic job at my wedding, which was an interfaith union. She was attentive, easy to work with, reliable, and most importantly did a beautiful job on our special day. She made our ceremony so special! I would recommend her to anyone seeking a perfect ceremony.
Corie, 04/15/2018, Rating 5.0 ★ ★ ★ ★ ★
Suzanne, thank you so much for helping us create the perfect wedding ceremony.
You took all our wishes and created a fantastic event. We not only enjoyed the custom design to our liking, we had numerous compliments on hosting such a beautiful ceremony. You were a pleasure to work with. WB & KJ
William, 11/24/2017, Rating 5.0 ★ ★ ★ ★ ★
Rev. Suzanne was a pleasure to work with.
We spoke twice over the phone and met once in person. She was very open and understanding of what we were looking for in our wedding ceremony. She pulled specific readings based on the "feel" that we were going for so that we could review- we also provided her with some guidance and suggestions as well. She put together a great ceremony and was open to feedback and changes so that we could make sure it felt like our own. I would definitely book Rev. Suzanne- this was once piece of our wedding that we really did not need to worry about at all.
Corinne, 11/4/2017, Rating 5.0 ★ ★ ★ ★ ★
Reverend Suzanne Crouch is by far the best!
She did such an amazing job catering to us! My husband's Mother wanted a more Christian base and we preferred a more contemporary wedding ceremony. She put the two together and made the most amazing ceremony. She kept in close contact with us and helped plan everything. It almost felt as if we had known each other forever!
Michelle and David Tarpon Springs Fl. October 9, 2016, Rating 5.0 ★ ★ ★ ★ ★
When we met Rev. Suzanne, we knew she was the officiant we wanted for our wedding.
She was so calm and patient, asking many questions about our lives and relationship. We felt so at ease with her knowledge and professionalism and knew she would give us the personalized service we were both looking for.
F&P Franklin, NJ June 22, 2015, Rating 5.0 ★ ★ ★ ★ ★
The WeddingWire Couples' Choice Awards® recognize local wedding professionals who demonstrate excellence in quality, service, responsiveness, and professionalism. Winners are determined by the reviews from more than one million WeddingWire couples.
Contact One Souls Journey
Reverend Suzanne Crouch    Branchville, NJ 07826    201-602-2095    RevSuzanne@OneSoulsJourney.com
North New Jersey & Tri-State Non-Denominational Interfaith Minister & Wedding Officiant